Caregiver Resources


Let the Records Show: A Practical Guide to Power of Attorney and Estate Record Keeping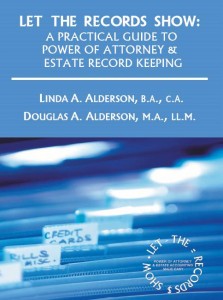 Let the Records Show: A Practical Guide to Power of Attorney and Estate Record Keeping is a valuable and unique resource that will provide you with a 10-Step guide to ensure accurate keeping of financial records for those who act as Attorney under a Continuing Power of Attorney for Property or as an Estate Trustee.
In addition to providing a 10-Step guide for required record keeping, Let the Records Show also offers:
Answers to important questions to consider before acting as an Attorney
Accounting and Legal Terms in Plain English
Fundamentals of being an Attorney or Estate Trustee
Inventory preparation guidance
Comparison between the roles of Attorney and Estate Trustee
Common problems and how to fix them
Estate litigation basics
Charts, templates, and checklists to help you be organized!
A 'must have' resource for everyone wishing to reduce the uninvited stress that can often come with being an Attorney and/or Estate Trustee; an absolute 'best friend' for those who know there is a requirement for probate.
LINDA A. ALDERSON has been practicing as a Professional Chartered Accountant for over 30 years in a variety of roles and on four continents. During that time she has had many opportunities to assist people in understanding the record keeping responsibilities that come with being either an Attorney under a Power of Attorney or an Executor under a Will.
DOUGLAS A. ALDERSON is a lawyer called to the Ontario bar in 1992.  Educated at the University of Toronto, Osgoode Hall Law School and the Yale Law School, he combines an academic love of Trusts and Estates with a practical focus on assisting clients with estate planning and management issues leading to, and ensuring client-centered, solutions.