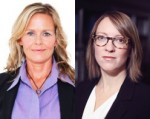 We are very thankful that Kimberly Whaley and Heather Hogan, estate litigation lawyers who often deal with Power of Attorney and End of Life issues, offered to do a podcast with us. During this podcast we discuss:
Who would make an appropriate attorney for property?
How will my attorney for property know the rules and obligations that apply to them when managing my property?
Is it a good idea to appoint more than one person as an attorney for property?
What if I appoint my two children as my attorneys for property and they can't agree on how to manage my property?
If my attorney for property is managing my property, am I allowed to see my bank accounts and a copy of all financial transactions that my attorney undertakes on my behalf?