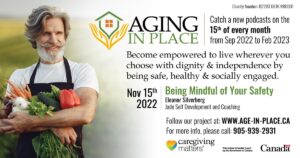 As part of our "Aging in Place" project, we are pleased to release a new podcast episode: Being mindful of your safety as we age-in-place.
This podcast looks at how being mindful of our safety has direct impacts on our independence and dignity.  As we get older we need to think about how our actions and choices may get us hurt and change our lives and our families' lives.
As an example, we should ask ourselves simple questions like:  "Do I really need to get up on the ladder?"
Our guest expert is: Eleanor Silverberg of Jade Self Development Coaching. 
We hope you enjoy Eleanor's comments.