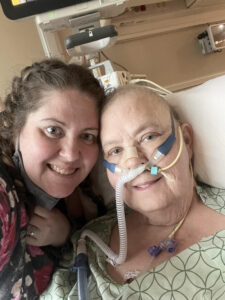 I would like to nominate my daughter, Mary Thomas. I was diagnosed in December of 2020 with MDS, a blood cancer. My daughter, Mary, became my caregiver right away.
She was working from home (pandemic) yet she would take me to many of my chemo treatments and work remotely. She was my memory and helped me understand what the doctor was explaining. She organized rides for me when she couldn't be there with me. She bought a bigger home, with a room of my own, so I could live with her during my bone marrow transplant, which required 24/7 supervision for the first 100 days post-transplant.
During the four weeks I was hospitalized with my transplant, she stayed with me, in my room, 24 hours a day, rarely leaving my side. She had to release control and let her husband, Kelly, become the caregiver for their two small children.
She helped me through the really bad days of chemo and all of its side effects. She gave me strength and comfort as she buzzed my hair when it started to fall out. She took time off work for my worst days.
When I was released, but was suffering from chemo burns on the most private areas of my body, she gently applied the creams needed to help me heal. She managed the many medications I was on and went to my weekly appointments to help me remember what the doctor told me, especially about medication changes.
When the worst happened, GVHD, a side effect of transplant, attacked my lungs and damaged them to a life threatening degree, she again stayed with me at the hospital 24/7, this time for six weeks, four of them in the ICU. Again, she left her children to the care of Kelly.
She learned how most of my machines worked and was trusted by my nurse to help me. She had to ride the emotional roller coaster as I was dying, despite the doctors' best efforts.
She organized visits with my children, grandchildren, and close friends so I could say goodbye. That was so overwhelming for her. She helped me write my will, plan my funeral, and helped me with my end of life care. I can't imagine what she was going thru emotionally at this time.
When a miracle (doctor's words) occurred and I began to show small signs of improvement, she was again faced with up and down uncertainty of my chances of recovery. The miracle continued as I improved more and more.
When I was released from the hospital to a rehab facility, her poor body gave out and she was exhausted to the point of illness. Her husband Kelly also felt the let down from the stress of the last 7 months.
Mary was, and is, my main caregiver. Yet she feels she could have done more, been with me more, and worried that I was upset when she needed a break. That was not true, I wanted her to take more time for herself. She just felt she couldn't be away from me, in case something happened and it took 30 minutes to get back to me.
I will be forever grateful that she, without a second thought, became my caregiver. She is there most loving, giving, and self-sacrificing person I know and am proud to have her as my daughter.
Thank you,
Susan Hinckley