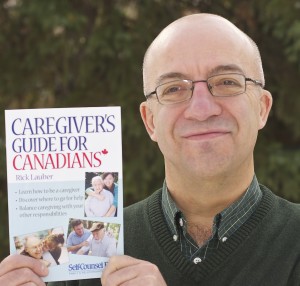 What should you do when your mother or father grows old? It's the natural course of life, but so many children of aging parents are unprepared. When a parent's health begins to fail, an adult child is left scrambling to find help, balance his or her time and even just to cope.
Edmonton author and former co-caregiver, Rick Lauber, has spoken on the many complicated issues involved with eldercare in his first book, Caregiver's Guide for Canadians. Lauber draws from his own experience and provides valuable advice for those prospective, new and current caregivers struggling to manage their time while helping a senior in-need. Sample chapters in Caregiver's Guide for Canadians include "Caregiving from a Distance", "Finding and Moving Your Parent into Suitable Accommodations", "Working with Other Family Members and Maintaining Harmony" as well as "Finding Joy in Caregiving".
Lauber's book also includes an entire chapter of websites relevant to Canadian caregivers and a number of checklists and worksheets designed to make the job of caregiving much easier. Considering our country's rapidly-aging population, eldercare has become much more a timely and topical issue. The book continues to command strong reader and media attention.
Caregiver's Guide for Canadians is available at national Chapter's bookstores as well as on-line at http://www.self-counsel.com/default/caregiver-s-guide-for-canadians.html  and/or  http://www.amazon.ca/Caregivers-Guide-Canadians-Rick-Lauber/dp/1770400400/ref=zg_bs_957088_2. For more information, please take a look at www.caregiversguideforcanadians.com.
Contact information: