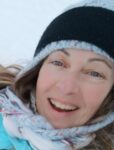 Time for movement, a change of scene
The great outdoors, fresh air, breathe clean
Choose an interest, begin a routine
Commit to starting, be optimistic, be keen
Leisure time is up to you
Bike, knit, paddle a canoe
As a kid, what did you do?
Contemplate, think it through
This particular thing you knew
Took time to learn, with practice you grew
Ah the memories, more than a few
How about tackling something new?
What is your passion for feeling free?
Where lies your joy, your tranquility?
Beachcomb? Paint? Yoga by the sea?
What makes your heart jump with glee?
Ask, question, probe is key
To finding your craft easily
There's an abundance to do, and to see
Guess what? A lot is actually free!
Example: a walk, it's good for your soul
Treat yourself after to a chicken soup bowl!
Once you've achieved, you'll feel whole
Believe in yourself, and reach that goal
The energy provided by a hobby or two
Good health, value of self, to name a few
Feeding your spirit, your body, your mind
No limitations to the benefits you'll find
Be open to lessons the universe may teach
Contentment, fulfillment are within reach
Be willing, be dedicated, focus each day 
On positive thoughts that transform and convey
Nothing to lose, only gains lead the way
Excitement on the horizon, prepare to play!
Where to look? Never done this before?
Search internet websites for adventures galore
A wealth of activities, courses to explore
You'll find something you'll soon adore
You work hard, go beyond and above
Give yourself permission, experience self love
A Shakespearean quote: 'to thine own self be true'
With intention and drive, discover you!