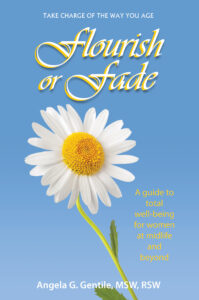 Flourish or Fade:
A guide to total well-being for women at midlife and beyond provides you with the information and tools needed to improve life satisfaction. Ten years in the making, Angela Gentile's Flower of Wellness Method will help you devise a plan to balance your body, mind, and soul.
You will learn how to enhance your overall well-being by exploring the 10 dimensions of wellness:
Physical
Emotional
Brain
Social
Sexual
Spiritual
Environmental
Recreational
Financial
Occupational
The Flower of Wellness Method is based on the author's education, personal experiences, and profession as a clinical social worker providing services to older adults and their families for more than 25 years.
This anti-ageist, realistic, and optimistic approach to life in the middle years and beyond will provide you with inspiration and tips that will have you feeling confident, happy, and satisfied with whatever may come your way.
Do you want to flourish or fade in the later years? It's your choice.