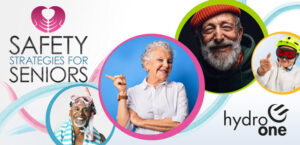 Not only are we thrilled and thankful  here at Caregiving Matters that we were awarded a grant from Hydro One to produce a 6 part digital project that looks at ways for seniors to be safer but they mentioned us in their province-wide press release.  How exciting is that?
Mary Bart, Chair of Caregiving Matters was quoted in their press release.  She said:
"While we have all felt the impact of the pandemic in some way, it is easy to lose sight of our most vulnerable, especially now, as everyone continues to isolate," said Mary Bart, Chair of Caregiving Matters, an internet-based charity serving seniors across Ontario, one of the 35 organizations receiving a much-needed donation from Hydro One. "With the support of Hydro One, we will be able to implement a program for isolated seniors that helps them maintain their sense of community through a virtual connection to others."
To read the full press release, go to this link.
http://hydroone.mediaroom.com/2021-05-27-Hydro-One-is-energizing-life-in-Ontario-by-supporting-local-charities-in-need