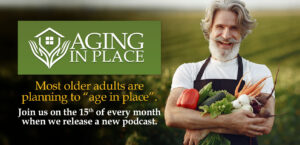 Here at Caregiving Matters, we are excited to launch a new project about AGING-IN-PLACE.  We are honoured to partner with the Canadian federal government to present a series of digital events dedicated to a variety of ways to successfully age-in-place. On the 15th of every month from September 2022 through February, 2023, we will bring you a new digital event showcasing a different element of aging-in-place.
Aging-in-place is all about being empowered to live wherever you choose with dignity and independence by being safe, healthy and socially engaged. As a senior, do you think about "aging-in-place"? Do you think about ways to improve you're your life today so you can continue to age-in-place for years to come? Being mindful of how you live, where you live and with whom you socialize with have direct impacts on your health, happiness, independence and your dignity.
Our first digital event will be posted on Sept. 15th featuring Sue Lantz, BA, MPA, Managing Director Collaborative Aging.  Her topic is: Five Strategies for Aging in Place.
You can watch Sue's presentation and follow our project at: https://caregivingmatters.ca/special-projects/aging-in-place/