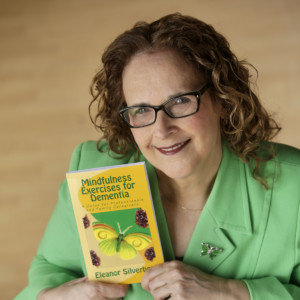 Eleanor Silverberg has written a very practical guide that fills a gap in the area of mindfulness – a practice that has become very popular in recent years.  
Lisa Loiselle, Associate Director,
Murray Alzheimer Research and Education Program, University of Waterloo, Waterloo, ON Canada
In a gentle and encouraging manner, Eleanor brings mindfulness exercises to this population.
Dr. Ellen Buchman, Practitioner & MBSR Teacher
Toronto Memory Program
You are cordially invited to the book launch where Eleanor will describe and demonstrate how the successful practice of mindfulness was modified to accommodate people living with Alzheimer's disease or other related dementia.
Date and Time: Monday, April 16th, 2018   6:30 – 8:30 pm 
Hosted by: Revera's Hilltop Place
1000 Elgin Mills Rd. East, Richmond Hill, Ontario
Light Refreshments
RSVP: kristen.kennedy@reveraliving.com
884.9248 Ext. 2004
hello@eleanorsilverberg.com
647.624.5677