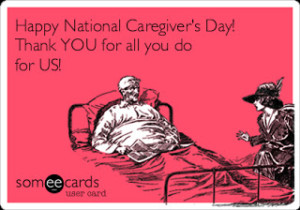 "Last year, the US Providers Association for Home Health & Hospice Agencies (PAHHHA) designated the third Friday in February as National Caregiver Day. This year, that's today – February 16! The intention was to create a national occasion similar to Mother's Day – one day in the year when Caregivers are thanked and feted. So today, share this post with friends and family. Today is the day when everyone says THANK YOU for all you do."
By Donna Thomson.
Donna has written on her blog about this today and it is well worth reading.
Here is a link to her wonderful site.
http://www.donnathomson.com/2018/02/its-national-caregiver-day-im-saying.html